Leola "Leo" Doud... one of the Steampunk characters from a comic book idea that never happened. I couldn't let such an awesome character go to waste, so she is being reincarnated as a Paper Doll!
I am working on a full size doll with multiple clothing pages that will be available here for purchase, but in the meantime please download the "Mini" version you you to print and enjoy free of charge!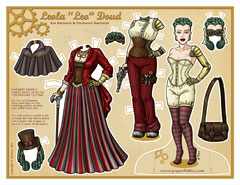 If you'd like to see some of the original artwork featuring Leo, visit my DeviantArt Gallery.